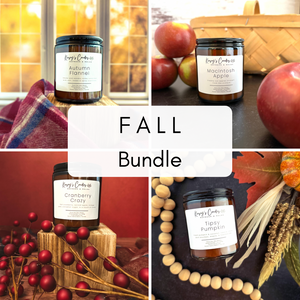 Experience the essence of autumn with our captivating Fall Candle Bundle. Immerse yourself in the crisp aroma of freshly picked MacIntosh apples, indulge in the warm and inviting embrace of Tipsy Pumpkin, delight in the tangy sweetness of Cranberry Crazy, and wrap yourself in the cozy comfort of Autumn Flannel. Let these exquisite fragrances transport you to a world of golden leaves, cozy evenings, and cherished moments.
Click HERE to order a 1 oz. wax fragrance sample.
Wax is a non-toxic, clean-burning blend of soy and food grade paraffin

7 oz. (198g)

The Warm Amber Collection comes in an approximately 3-1/2" tall by 2-3/4" diameter amber glass jar with a matte black metal lid

Lead-free cotton wick

Phthalate free, no proposition 65 warning required

Packaged in a black gift box
Please see our Candle Care & Safety Instructions before burning your candle. Click HERE to go to our Care & Safety Instructions page.