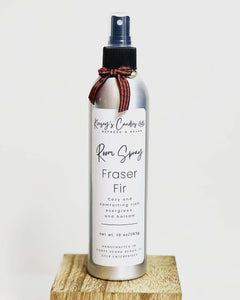 Our large 10 oz. Room & Linen spray is long lasting and a great way to freshen a room! We'll be adding more fragrances soon.  If you have any requests, please message us.

Please read the Care & Safety Instructions (click HERE to go to the page) before using the room spray.
Amber & Sandalwood - A calming blend of woodsy smooth sandalwood and deep amber expertly blended with warm spice.

Cashmere - Classic and timeless just like a cashmere sweater, clean soft and elegant. Very pretty fragrance.
Cocoa Butter Cashmere - Warm spiced coconut, vanilla, cocoa butter and jasmine with a smooth woodsy base.
Fraser Fir - Get ready for the holidays with this awesome Christmas tree scent!
Spa Therapy - Amazingly refreshing, this scent is clean with mint, ozone and citrus blended with a soft spiced bouquet.
Summer Linen - Clean and fresh summer linens. Cotton, coconut, and herbaceous bouquet.
Sweet Civility - Fresh citrus with a jasmine & lily bouquet grounded with amber and sweetened by cotton candy. Inspired by a popular fragrance and it does not disappoint. Wonderfully clean and beautiful.