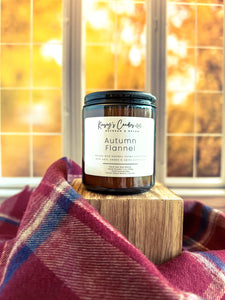 Holy apple cider and fuzzy slippers, this candle has some truly "lit" flannel vibes! 

Our "Autumn Flannel Candle" embodies the timeless and comforting essence of the fall season, reminiscent of crisp autumn days, cozy flannel clothing, and the warm embrace of nature's colors.
This beautiful fragrance features smokey woodsy notes with a soft sweet and spicy overtone.  "Autumn Flannel" is the candle of choice for snuggling and feeling cozy!
Lighting the "Autumn Flannel Candle" fills the room with the comforting scents of autumn, creating a welcoming and familiar ambiance. It brings to mind gatherings with loved ones, enjoying the beauty of nature, and savoring the delights of the harvest season.
The beauty of this fragrance lies in its ability to transport you to a place of nostalgia and comfort, where you can embrace the timeless magic of fall. 
Click HERE to order a 1 oz. fragrance sample.

Wax is a blend of non-toxic, clean-burning soy and food grade paraffin

phthalate free, no Proposition 65 warning required

7 oz. (198g)

The Warm Amber Collection comes in an approximately 3-1/2" tall by 2-3/4" diameter amber glass jar with a matte black metal lid

Lead-free cotton wick

Packaged in a black gift box
Please see our Candle Care & Safety Instructions before burning your candle.  Click HERE to go to our Care & Safety Instructions page.