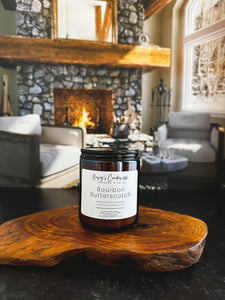 Introducing the bourbon butterscotch bliss, aka, "Bourbon Butterscotch Candle" - a charming blend of scents that will whisk you away with its tantalizing fusion of rich aged bourbon and indulgent butterscotch that promises to elevate your senses and create a warm, comforting ambiance.

As you light this candle, the air fills with the enchanting aroma of smooth bourbon, reminiscent of a cozy  evening spent by the fireplace. The top note offers a hint of oak and caramel, inviting you into a world of refined sophistication. Then comes the heart note, where the velvety sweetness of butterscotch takes center stage. Imagine creamy, buttery toffee notes blending with a touch of vanilla, creating a mouthwatering scent that wraps you in a delicious, dessert-like embrace. The vanilla base note of this candle exudes a subtle warmth and depth.
The "Bourbon Butterscotch Candle" is the perfect companion for quiet evenings at home, intimate gatherings with loved ones, or whenever you desire a touch of opulence and comfort. Its captivating scent will create an inviting atmosphere, making your space feel like a luxurious retreat where you can savor the pleasure of a delightful bourbon and butterscotch experience.
Treat yourself or someone special to this sumptuous indulgence, and let the "Bourbon Butterscotch Candle" add a touch of elegance and charm to any setting. Get ready to immerse yourself in the sweet, sophisticated embrace of this enchanting fragrance.
Click HERE to order a 1 oz. wax fragrance sample.
Wax is a blend of non-toxic, clean-burning soy and food grade paraffin

7 oz. (198g)

The Warm Amber Collection comes in an approximately 3-1/2" tall by 2-3/4" diameter amber glass jar with a matte black metal lid

Lead-free cotton wick

Packaged in a black gift box
Please see our Candle Care & Safety Instructions before burning your candle. Click HERE to go to our Care & Safety Instructions page.