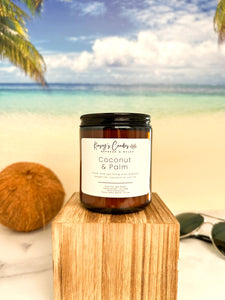 Imagine the scent of coconuts doing the hula with the fresh breeze of palm leaves – it's a luau for your nose! We promise, this candle won't give you a tan, but it'll definitely make your living room feel like a tropical oasis!
Introducing our "Coconut and Palm Candle," a delightful blend of tropical aromas that will transport you to a serene beachside paradise. The warm and soothing fragrance of coconut harmoniously mingles with papaya, tangerine, and the fresh, green notes of palm, creating a captivating and calming ambiance in any space.
Let the Coconut and Palm Candle fill your home with the essence of a tranquil tropical getaway, creating moments of relaxation and bliss. Perfect for unwinding after a long day or setting the mood for a special occasion. Light it up and let the tropical bliss engulf your senses.
Click HERE to order a 1 oz. wax fragrance sample.
Wax is a non-toxic, clean-burning blend of soy and food grade paraffin
7 oz. (198g)

The Warm Amber Collection comes in an approximately 3-1/2" tall by 2-3/4" diameter amber glass jar with a matte black metal lid

Lead-free cotton wick

Packaged in a black gift box
Please see our Candle Care & Safety Instructions before burning your candle.  Click HERE to go to our Care & Safety Instructions page.