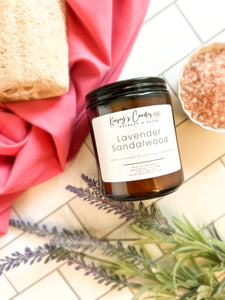 Discover a state of calm and inner peace amidst the chaos of everyday life. You could say, "Lavender Sandalwood" is our "zen master" candle, with its indulgent, soothing, and enchanting aroma.
This delightful blend combines the calming essence of lavender with the warm and woody notes of sandalwood, creating a harmonious and relaxing fragrance that will transport you to a place of tranquility and inner peace.
Whether you're unwinding after a long day or setting the mood for a peaceful atmosphere, our "Lavender Sandalwood Candle" is the perfect companion to enhance your moments of serenity and mindfulness. Let the gentle flickering flame and delightful scent create a cozy ambiance that soothes your senses and brings a sense of calmness to any space.

Wax is a non-toxic, clean burning blend of soy and food grade paraffin

7 oz. (198g)

The Warm Amber Collection comes in an approximately 3-1/2" tall by 2-3/4" diameter amber glass jar with a matte black metal lid

Lead-free cotton wick

Packaged in a black gift box
Please see our Candle Care & Safety Instructions before burning your candle.  Click HERE to visit our Care & Safety Instructions page.