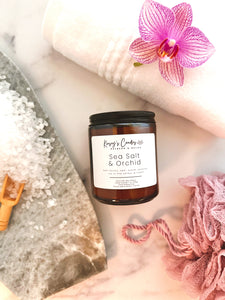 Indulge in the soothing embrace of our Sea Salt and Orchid candle, where the fresh, ozonic breeze of sea salt mingles seamlessly with the gentle, calming whispers of jasmine, lily of the valley, and the warm, comforting presence of tonka bean. A fragrant voyage to tranquil shores, where relaxation meets elegance.

Wax is a non-toxic, clean-burning blend of soy and food grade paraffin
7 oz. (198g)
The Warm Amber Collection comes in an approximately 3-1/2" tall by 2-3/4" diameter amber glass jar with a matte black metal lid
Lead-free cotton wick
Packaged in a black gift box

Please see our Candle Care & Safety Instructions before burning your candle.  Click HERE to go to our Care & Safety Instructions page.