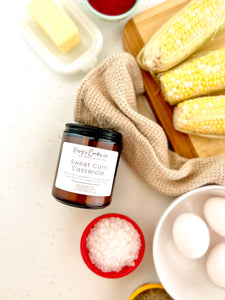 Caution: May induce spontaneous cravings for seconds and a sudden desire to don an apron! Enjoy responsibly and have an a-maize-ing time!

A candle that captures the fragrance of a delicious sweet corn casserole. It fills your space with the comforting aroma of corn, butter, cream, and spices reminiscent of a warm and tasty casserole straight from grandma's oven. Lighting this candle creates a cozy and inviting atmosphere making it perfect for gatherings, family dinners, or to evoke feelings of nostalgia and comfort.


Wax is a non-toxic, clean burning blend of soy and food grade paraffin

7 oz. (198g)

The Warm Amber Collection comes in an approximately 3-1/2" tall by 2-3/4" diameter amber glass jar with a matte black metal lid

Lead-free cotton wick

Packaged in a black gift box
Please see our Candle Care & Safety Instructions before burning your candle.  Click HERE to go to our Care & Safety Instructions page.