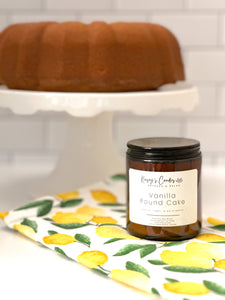 Have your cake and "smell" it too – minus the guilt and crumbs!
Introducing our "Vanilla Pound Cake" candle, a little jar of sweetness that fills the air with the heartwarming hug of a freshly baked vanilla buttery treat. With its soft glow and tempting aroma, it's the perfect way to add a touch of sweetness to any moment, turning your space into a haven of comfort and goodness.
Wax is a non-toxic, clean-burning blend of soy and food grade paraffin

7 oz. (198g)

The Warm Amber Collection comes in an approximately 3-1/2" tall by 2-3/4" diameter amber glass jar with a matte black metal lid

Lead-free cotton wick

Packaged in a black gift box
Please see our Candle Care & Safety Instructions before burning your candle.  Click HERE to go to our Care & Safety Instructions page.