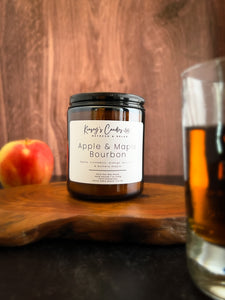 Rest assured, this bourbontastic candle will not get you tipsy! Darn…
The "Apple Maple Bourbon Candle" is a perfect blend of warm and inviting! The aroma of crisp apples fills the air, complemented by the rich and sweet notes of maple syrup. But that's not all; a subtle hint of smooth aged bourbon adds an extra layer of sophistication to the fragrance.
This candle is perfect for creating a cozy atmosphere during fall and winter evenings or whenever you want to add a touch of comfort to your living space. Its sweet and slightly boozy scent combination will surely make your home feel welcoming and relaxed.
Whether you're enjoying a quiet evening alone or hosting a gathering with friends, the "Apple Maple Bourbon Candle" will set the mood and create an ambiance that everyone will love. Just light it up, sit back, and let the delicious scents transport you to a warm and comforting space.
Click HERE to order a 1 oz. wax fragrance sample.
Wax is a non-toxic, clean-burning blend of soy and food grade paraffin

7 oz. (198g)

The Warm Amber Collection comes in an approximately 3-1/2" tall by 2-3/4" diameter amber glass jar with a matte black metal lid

Lead-free cotton wick

Phthalate free, no proposition 65 warning required

Packaged in a black gift box
Please see our Candle Care & Safety Instructions before burning your candle. Click HERE to go to our Care & Safety Instructions page.