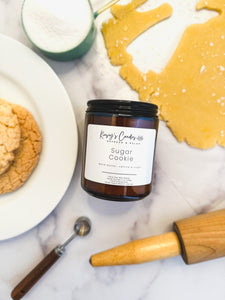 Introducing our Sugar Cookie Candle, the perfect year-round treat for your senses. Whether you're unwinding by the fire on a chilly Christmas evening or simply craving a comforting scent any day of the year, this candle brings the heartwarming aroma of freshly baked sugar cookies to your space. Embrace the sweet moments, no matter the season, with every flicker of its warm, cozy glow.
Click HERE to order a 1 oz. wax fragrance sample.
Wax is a non-toxic, clean-burning blend of soy and food grade paraffin

7 oz. (198g)

The Warm Amber Collection comes in an approximately 3-1/2" tall by 2-3/4" diameter amber glass jar with a matte black metal lid

Lead-free cotton wick

Phthalate free

Packaged in a black gift box
Please see our Candle Care & Safety Instructions before burning your candle. Click HERE to go to our Care & Safety Instructions page.