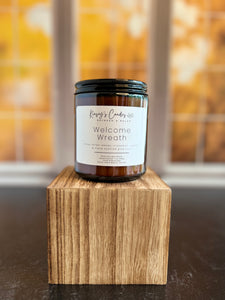 Go ahead and enter if you like rooms that smell sassy and ahh-mazing!
The "Welcome Wreath Candle" is a charming and inviting candle that evokes a sense of hospitality and warmth. Much like a beautifully made wreath, it says "come on in and stay a while."
This fragrance was carefully crafted to create a comforting and inviting atmosphere. It features warm spices, fallen leaves, cinnamon apples, and clove scented pine cones - reminiscent of the familiar scents of home and the joy of welcoming guests. Its soft glow and delightful scent will instantly transform your living space into a cozy haven. It's the perfect addition to your home decor, whether you're hosting a gathering or simply looking to create a welcoming ambiance for yourself and your loved ones.
This candle serves as a lovely gift for housewarmings, holidays, or any occasion where you want to express the sentiment of "welcome" to someone special. With the "Welcome Wreath Candle" as part of your home decor, you'll always have a warm and inviting atmosphere to greet both old friends and new acquaintances.
Wax is a blend of non-toxic, clean-burning soy and food grade paraffin

7 oz. (198g)

The Warm Amber Collection comes in an approximately 3-1/2" tall by 2-3/4" diameter amber glass jar with a matte black metal lid

Lead-free cotton wick

Packaged in a black gift box
Please see our Candle Care & Safety Instructions before burning your candle.  Click HERE to go to our Care & Safety Instructions page.