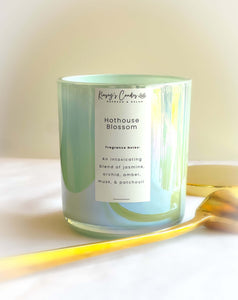 When it comes to floral candles, Hot House Blossom is an absolute favorite! An intoxicating blend of jasmine, orchid, amber, musk & patchouli, this fragrance is amazing.
Click HERE to order a 1 oz. wax fragrance sample
Coco apricot creme wax is clean burning, biodegradable and natural, renewable, and non-toxic, made from apricot, soy, coconut and food-grade paraffin in the USA

12 oz. (340g)

The Luxury Candle Collection comes in an approximately 4-1/4" tall by 3-3/4" diameter recyclable glass vessel (not for food products) with a thick aluminum lid that fits snugly onto the candle

Eco-friendly, clean burning wooden wick with a light whisper crackle

Fragrance is phthalate free, cruelty-free, vegan, no proposition 65 warning required

Packaged in a black gift box with crinkle filler
Please note:  Coconut wax burns slightly differently than other waxes. Do not be concerned if a bit of tunneling should occur when first burning your candle.  This may or may not happen.  Once it burns about half way down or a little more, the candle will level out. 
Please see our Candle Care & Safety Instructions before burning your candle. Click HERE to go to our Care & Safety Instructions page.