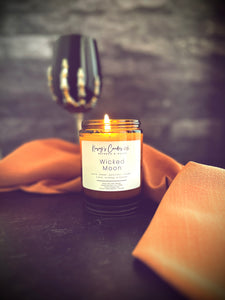 Step into the enchanting embrace of the Wicked Moon candle. Its haunting aroma weaves a tale of mystery and darkness, where rich earth notes stir with a bewitching blend of amber and patchouli, while whispers of woods, clove, and cinnamon dance in the air. As you light this candle, the very essence of the night's secrets seems to awaken, casting an eerie glow that invites you to explore the depths of your own imagination.
Straight out of a scene from "MacBeth" this candle brings to mind wicked witches standing around a cauldron cackling about their brew. Our favorite "spooky" scent.
Limited edition, but while supplies last.
Click HERE to order a 1 oz. wax fragrance sample.
Wax is a non-toxic, clean-burning blend of soy and food grade paraffin

7 oz. (198g)

The Warm Amber Collection comes in an approximately 3-1/2" tall by 2-3/4" diameter amber glass jar with a matte black metal lid

Lead-free cotton wick

Phthalate free, no proposition 65 warning required, cruelty free, vegan.

Packaged in a black gift box
Please see our Candle Care & Safety Instructions before burning your candle. Click HERE to go to our Care & Safety Instructions page.