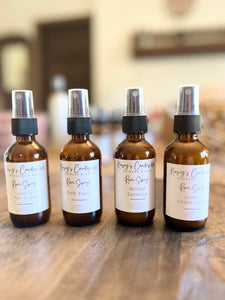 **Please forgive a brief pause while our room sprays are rebranded and reformulated.**
This room & linen spray is one of our very favorite products. Lightweight and neutral, the elegant glass bottles and waterproof label will fit perfectly into your lifestyle with several great fragrance options!
2 oz. or 56g




Matte black glass spray bottle




Phthalate free
Please see our Care & Safety Instructions before using your Room & Linen Spray.  Click HERE to go to our Care & Safety Instructions.

Mojito & Sugarcane - Fresh lime, mint, and sugarcane with the unusual twist of earthy avocado flesh.
Drunken Dragon Fruit
Havana Sunset
Home Sweet Home
Jazz & Tonic
Lavender Sandalwood
Lilac & Pink Sugar
Opulent Minthe
Soft Yuzu
Sunny Sunday - Kalamansi lime, green tea, citrus, and soft musk. A fresh, green lemon fragrance.
Winter Solstice