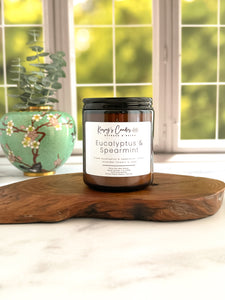 Immerse yourself in the refreshing blend of eucalyptus, spearmint, citrus, lavender flower, and sage with this soothing candle. Let the invigorating notes of eucalyptus and spearmint awaken your senses, while the bright citrus undertones provide a burst of energy. The gentle presence of lavender flower and sage creates a calming atmosphere, perfect for relaxation and tranquility. Light this candle to fill your space with a harmonious balance of invigoration and serenity.
Wax is a non-toxic, clean-burning blend of soy and food grade paraffin

7 oz. (198g)

The Warm Amber Collection comes in an approximately 3-1/2" tall by 2-3/4" diameter amber glass jar with a matte black metal lid

Lead-free cotton wick

Packaged in a black gift box
Please see our Candle Care & Safety Instructions before burning your candle.  Click HERE to go to our Care & Safety Instructions page.