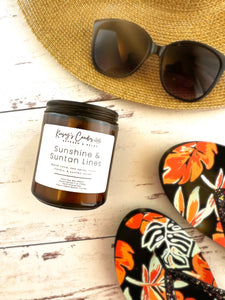 Whether you love hanging out on the boardwalk, vacationing in tropical locations, or simply enjoying the good vibes of the beach or pool, our "Sunshine and Suntan Lines Candle" encapsulates the essence of a sunny beach day, and all the warmth, relaxation, and summer bliss that you love so much.
This beautifully crafted candle features a refreshing and uplifting fragrance that takes you to a tropical paradise. As you light the candle, you'll be greeted with the invigorating scents of light fresh mandarin combined with the sweet aroma of coconut, warm sand, sea spray, and a hint of suntan lotion.  The fragrance captures the carefree spirit of a day spent basking in the sun at the beach, creating a sense of calm and tranquility in your space.
The warm glow of the candle's flame adds to the ambiance, creating a cozy and inviting atmosphere in any room. Whether you're looking to unwind after a long day, set the mood for a relaxing bath, or simply infuse your living space with a touch of summer, this candle is the perfect choice.
With its long-lasting burn time, the "Sunshine and Suntan Lines Candle" becomes a companion to your favorite moments, allowing you to enjoy the beachy vibes all year round. It also makes an excellent gift for friends and loved ones who appreciate the joys of summer and the serenity of the beach.
Indulge in a tropical fantasy with this delightful candle, and let it transport you to a sun-soaked beach paradise whenever you light it up. It's the perfect way to bring a piece of summer into your home and create a cozy retreat that celebrates the beauty of the sun and sea.
Wax is a non-toxic, clean burning blend of soy and food grade paraffin

7 oz. (198g)

The Warm Amber Collection comes in an approximately 3-1/2" tall by 2-3/4" diameter amber glass jar with a matte black metal lid

Lead-free cotton wick

Packaged in a black gift box
Please see our Candle Care & Safety Instructions before burning your candle.  Click HERE to go to our Care & Safety Instructions page.