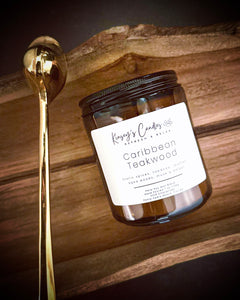 Indulge in the captivating essence of our Caribbean Teakwood candle. This luxurious fragrance transports you to a tropical paradise with every gentle flicker. Rich notes of exotic spices, ginger, and peppercorn entwine with the deep allure of tobacco leaf, while hints of leather and aged teakwood add sophistication. As the aroma evolves, it gracefully mellows into the warm embrace of woodsy sandalwood, amber, and dark musk, creating an inviting and irresistible atmosphere that lingers in your space, making every moment a sensory escape to the Caribbean shores.
Click HERE to order a 1 oz. wax fragrance sample.
Wax is a non-toxic, clean-burning blend of soy and food grade paraffin

Phthalate free, no Proposition 65 warning required

7 oz. (198g)

The Warm Amber Collection comes in an approximately 3-1/2" tall by 2-3/4" diameter amber glass jar with a matte black metal lid

Lead-free cotton wick

Packaged in a black gift box
Please see our Candle Care & Safety Instructions before burning your candle. Click Here to go to our Care & Safety Instructions page.