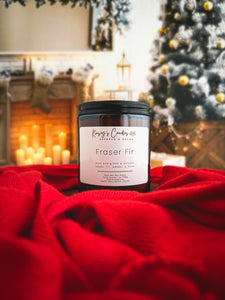 Looking for some swag and sparkle? This candle's going to make you want to laugh and frolic through the holidays!
Our "Fraser Fir Candle" is a wonderfully refreshing and enchanting scented candle that captures the essence of a snowy winter forest. Imagine the aroma of freshly cut Fraser fir trees, filling the air with their crisp, woody scent, reminiscent of a winter wonderland.
As you light the "Fraser Fir Candle," it will transport you to a serene and peaceful place, surrounded by the beauty of nature. The fragrance of the candle evokes images of snow-covered pine trees, adding a touch of magic to your home during the holiday season and beyond.
The "Fraser Fir Candle" is the perfect companion for cozy nights by the fireplace, creating a warm and inviting atmosphere that brings the outdoors inside. Its calming and soothing aroma will help you unwind and find comfort in the midst of hectic winter days.
Whether you're hosting a holiday gathering or simply looking to enjoy some quiet moments alone, the "Fraser Fir Candle" will infuse your space with the tranquility and freshness of a snowy evergreen forest. It's a timeless and classic scent that appeals to people of all ages, making it a wonderful gift for friends and loved ones as well.
Click HERE to order a 1 oz. fragrance sample.
Wax is a non-toxic, clean-burning blend of soy and food grade paraffin

7 oz. (198g)

The Warm Amber Collection comes in an approximately 3-1/2" tall by 2-3/4" diameter amber glass jar with a matte black metal lid

Lead-free cotton wick

Packaged in a black gift box
Please see our Candle Care & Safety Instructions before burning your candle.  Click HERE to go to our Care & Safety Instructions page.