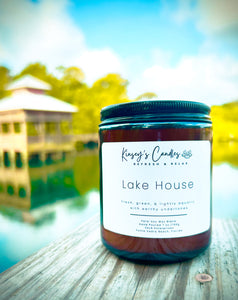 Looking for a little lakeside "chill"? Can't blame you, don't know of anyone who couldn't use more "chillax" time… Transform that house from looney to luminous in no time…
The "Lake House Candle" is a serene and inviting scented candle that captures the essence of a peaceful lakeside getaway. Imagine the aroma of fresh air, gentle waves, and hints of lush greenery as you light the candle.
Carefully crafted to evoke the tranquility of a lakeside retreat, this candle features a blend of clean and airy notes, with a touch of aquatic elements, and a hint of earthiness to bring home the natural beauty and serenity of a lakeside environment.
As you light the candle, the soothing scent will fill your home with a sense of relaxation and escape, transporting you to a quiet lakeside paradise.
This candle is perfect for creating a calm and rejuvenating ambiance during moments of relaxation or self-care. It's a great addition to your home decor, whether you have a lake house or simply want to bring the peacefulness of a lake retreat into your living space.
The "Lake House Candle" is also a thoughtful gift for friends or loved ones who enjoy nature and cherish moments of tranquility. So, if you're looking to infuse your space with the serene beauty of a lakeside escape, this scented candle is the perfect choice.
Click HERE to order a 1 oz. wax fragrance sample.
Wax is a non-toxic, clean-burning blend of soy and food grade paraffin

7 oz. (198g)

The Warm Amber Collection comes in an approximately 3-1/2" tall by 2-3/4" diameter amber glass jar with a matte black metal lid

Lead-free cotton wick

Phthalate free

Packaged in a black gift box
Please see our Candle Care & Safety Instructions before burning your candle. Click HERE to go to our Care & Safety Instructions page.