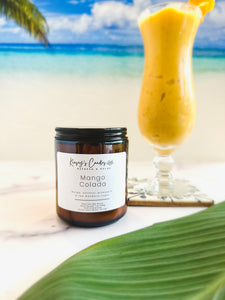 Welcome to a little mango madness! This fruity fiesta is riding on a sugar wave...
Introducing the delightful "Mango Colada Candle." Immerse yourself in the sweet and enchanting aroma that will transport you to a sunny, sandy beach, surrounded by swaying palm trees and crystal-clear turquoise waters.
The top note of succulent mango sets the stage for this tropical symphony. The sweetness of ripe coconut joins in, adding a creamy and comforting touch that perfectly compliments the mango's tropical vibes.
As the candle burns, the heart note of tangy pineapple emerges, bringing a zesty and refreshing twist to the fragrance. It's as if you've just sliced open a fresh pineapple, releasing its bright and invigorating aroma.
The base note of caramelized sugar provides the perfect balance, adding a warm and comforting undertone to the scent. The sweet sugar note wraps you in a sense of blissful relaxation.
Whether you're seeking a moment of relaxation, looking to escape to a dreamy island getaway, or simply want to infuse your space with a touch of tropical charm, the "Mango Colada Candle" is the perfect choice. Treat yourself or someone special to this captivating fusion of fruits and sugar, and let the tropical paradise fill your home with joy and happiness.

Wax is a non-toxic, clean-burning blend of soy and food grade paraffin

7 oz. (198g)

The Warm Amber Collection comes in an approximately 3-1/2" tall by 2-3/4" diameter amber glass jar with a matte black metal lid

Phthalate free

Proposition 65 warning not required

Lead-free cotton wick

Packaged in a black gift box
Please see our Candle Care & Safety Instructions before burning your candle.  Click HERE to visit our Care & Safety Instructions page.