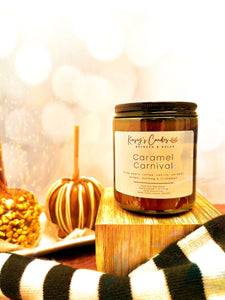 One sniff of this irresistible apple-scented candle and you are going straight to a caramel carnival and won't want to leave… Try not to get a cavity, it is just that sweet and good. 
Our "Caramel Carnival Candle" is a delightful creation  that captures the nostalgic and irresistible aroma of candy-coated apples. This candle will take you back on a trip through time to carnivals, fairs, and Halloween. The fragrance begins with a burst of juicy red apple, followed by rich and buttery caramel and rounded out with vanilla and caramelized sugar.
Lighting the "Caramel Carnival" candle fills the room with the delightful scent of candy apples, transporting you to a lively carnival filled with laughter and sugary treats. The combination of fresh apple, sweet caramel, and warm butter creates a cozy and inviting ambiance, making it perfect for adding a touch of festivity to your living space, especially during the autumn season.
Don't resist the temptation to experience this delicious caramel apple...  Truly amazing...
Click HERE to order a 1 oz. wax fragrance sample.
Wax is a non-toxic, clean-burning blend of soy and food grade paraffin

7 oz. (198g)

The Warm Amber Collection comes in an approximately 3-1/2" tall by 2-3/4" diameter amber glass jar with a matte black metal lid

Lead-free cotton wick

Phthalate free, no proposition 65 warning required, cruelty free, vegan.

Packaged in a black gift box
Please see our Candle Care & Safety Instructions before burning your candle. Click HERE to go to our Care & Safety Instructions page.