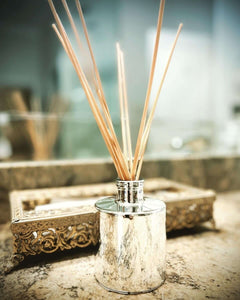 This eye-catching, electroplated glass bottle is an elegant way to add fragrance to any room.
Reed diffusers are a simple, low maintenance, and flame-free way to fill a space continuously with your favorite scents. They can be placed in areas where a little fragrance is desired all the time, such as entryways, bathrooms, window cutouts, shelves, etc. 
Customize the intensity of your diffuser by the number of reeds you place inside of it.  Want more scent?  Add more reeds.  Want less scent?  Remove a few reeds. Flip the reeds each week if desired. After setup, give the fragrance some time to soak into the reeds before judging the intensity of the scent.
To see our reed diffuser refill kit, click here.
6 oz./170g

Depending on use, lasts approximately 2-3 months or longer

3.58" high, 2.65" tall

Comes with ten reeds and a stopper

More fragrances coming soon!
Flammable liquid. Be careful to keep the diffuser out of the reach of pets and children.  Do not spill the contents as they may damage surfaces. Never ingest the contents of the reed diffuser bottle. Do not light reeds. Click HERE to go to our Care & Safety Instructions page.

Fragrance Descriptions:
Frasier Fir - Cozy and comforting, with rich evergreen and balsam.
Happy Day - Fresh ozone notes, clean mint and citrus, and spa-like spice with light musk.  
Havana Sunset - Distinctive and masculine with notes of bergamot, Cuban tobacco leaf & ylang-ylang.
Hot House Blossom - An intoxicating blend of jasmine, orchid, amber, musk & patchouli.
Lake House - Aromatic Greens and Lavender, surrounded by warm summer woods and cool water.
Lemon Verbena - Delightfully tart, fresh, and sweet lemon.
Sea Salt & Orchid - Sea Salt and Orchid is a smooth and elegant blend of soft floral notes with salty highlights. You'll notice crisp ozonic notes of sea salt. Calming notes of jasmine, lily of the valley, and tonka bean.
Summer in Capri - Kalamansi lime, green tea, citrus, sultry fig, and cedarwood. A fresh, green lemon fragrance grounded with musk and woods.  Will take you to this beautiful Italian island.
 Sunshine & Suntan Lines -  A relaxing stroll along the beach complete with warm sand, sea spray, salt, jasmine and mandarin.
Sweet Civility - Green, citrusy, fresh top notes with floral middle notes of rose, jasmine & lily enhanced by long lasting woody, musky, earthy, amber & sweet cotton candy type bottom notes.